Already a year in UWC
25 November 2018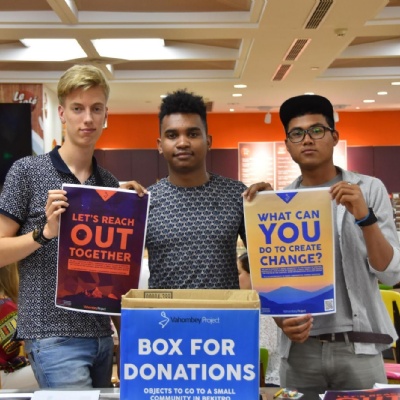 Jullian Karel Androkae, Changshu '19
Hometown: Toamasina
It has now been about a year and half that I got into UWC, and that I gave myself enough courage to jump into this experience. A year has passed now since I first stepped in Changshu, coming from my home, and getting in a place where I would be the only Malagasy for two years. It could have hardly felt more like home this first year: I found myself surrounded by such amazing people from the very first day, immediately making this new place a home. My first year went by faster than I'd ever expect, with incredible experiences going from playing in a musical to shooting my own music video! At UWC Changshu China, I had met friends from more than a hundred countries and got to experience so many more cultures than I ever thought of. There is so much to tell about this kind of life changing experience.
In the course of last school year, I got to develop skills in areas I've always been curious, such as producing music, where I made a remix before shooting a music video for it, participating in making the yearbook as a designer, discovering that I love to dance and joining dancing teams, strengthening my relationship with my own culture through our 'Africa and The Middle East Cultural Week' or even playing a 'gay and European' character in a musical on stage. These and much more are all things I didn't think about before coming to UWC and contributed in making my UWC experience memorable.
However, this is still so little compared to all the things being here brought me: I found valuable friends, with whom I've shared adventures around Changshu, amazing trips around China or even (or mostly) small and precious moments on campus, talking for hours about anything. And yes, I went to UWC but also to China, and that is another story. I will always remember those days and night spent in Shanghai, running around the streets to get to our metro station, those days during project week when I happened to teach children at a local school of Hebei or meeting the only other Malagasy person living in Changshu a few months ago, after spending a year believing I was the only one!
A couple of months ago, I flied back to Madagascar for the summer. However, I did not take a break from that experience in between those two years, because this summer I started Vahombey Project! This one consisted of filming a documentary about a small village while I was on vacation back in Madagascar, to showcase a different lifestyle from what I got on campus. The ultimate goal is to raise funding to bring change in that community in an adapted way. Being in a UWC gave me the opportunity to get on that project: the CAS and Development departments lent me material during the break while nearly a dozen of my friends on campus actively volunteered to help me make it reality. Sooner than I thought I was back in Madagascar with the goal of reaching the village of Bekitro and delivering presents from my friends and shooting my own documentary. This was one of the most challenging experience I've ever had, but also one of the most rewarding. I am currently still working on editing the documentary in order to release, but as I start my second year time management becomes more and more crucial.